SIM/STIM generates the same acoustic signal that a real sonar would receive.
It is used as a sonar simulator or as an input signal to stimulate different types of sonar.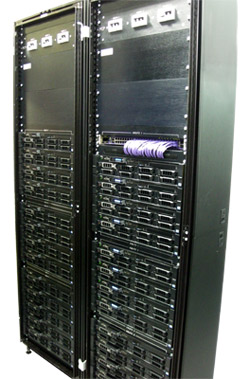 SIM/STIM for the development and integration of sonars in large programmes .
This system allows the creation of any scenario, generating the same raw signal that real sonars would receive in real-time.
This way, ship, submarine or aircraft sonar processing development and integration testing can be performed even if antennas are not available.
As a result, development times are reduced and integration risks on board are minimised.
Depending on customer requirements, SIM/STIM can simulate sonar control interfaces with the combat system.
SIM/STIM for simulation.
SIM/STIM is also a powerful sonar simulator in real-time that can work independently or be integrated into tactical naval simulators.
Based on COTS elements.
The modular SIM/STIM design is based on COTS technology. This feature, in addition to reducing hardware costs and reducing maintenance complexity, enables the system to be scaled to the customer's needs.
Effective for the development of submarine programmes.
SIM/STIM has been used in the development of the S-80 combat submarine built by Navantia for the Spanish Navy. As a tool to accelerate the development of the project, it has enabled the simulation and stimulation of the sonars of the combat system of the new Spanish submarine.