The rector of the Polytechnic University of Cartagena (UPCT), Beatriz Miguel Hernández, and the president of SAES, Joaquín López Pagán, signed the agreement for the creation of the "SAES Chair" on June 21. The new chair is part of SAES 'business strategy, which is committed to Digital Transformation and the incorporation of so-called Industry 4.0 technologies.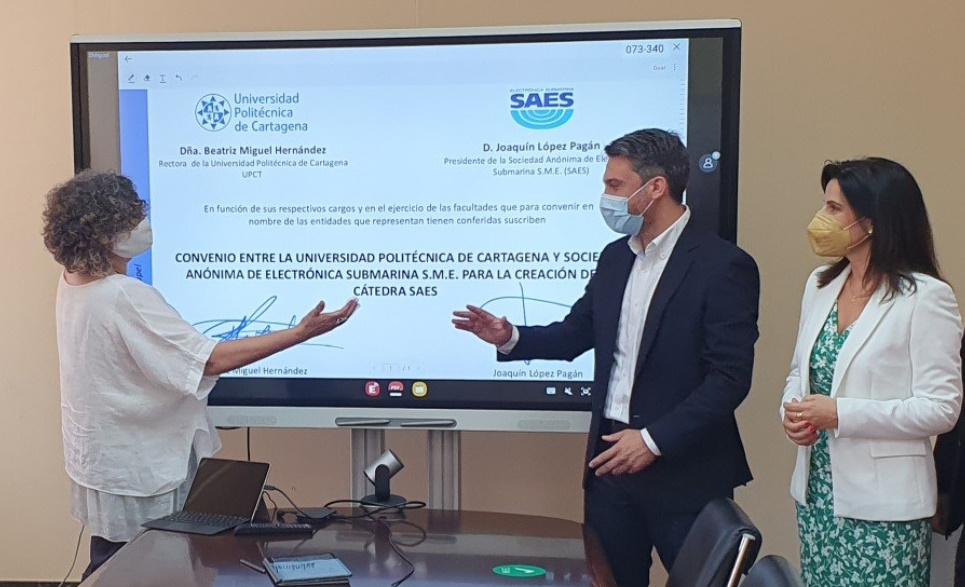 SAES Chair seeks to incorporate new technologies for artificial intelligence and digital imaging in its underwater signal processing systems for the protection of ships and facilities and for the analysis of underwater noise.
This project is intended to cover the need of the Spanish Navy and other important navies to handle technologically complex and advanced systems, such as the Acoustic Classification System, taking advantage of the level of technological maturity reached by artificial intelligence today, and in which Universities such as the UPCT are at the forefront ", explains Cristina Abad.
One of the applications of the use of artificial intelligence and machine learning, or 'machine learning', is to automatically detect and classify the acoustic signature of vessels or mammals with SAES sensors. "Another novelty that we seek to incorporate in collaboration with the UPCT researchers is the improvement of conversion and cleaning algorithms of the the acoustic signal using new digital treatment techniques," explains Antonio Arnao.