This device generates electro-magnetic fields corresponding to known signature levels for the calibration and maintenance of stations and measurement polygons.
Easy configuration.
Its configuration is very simple. Once configured with the desired levels, SWAMEG enables calibration of the electrical and magnetic sensors of a measurement polygon and will detect any faults.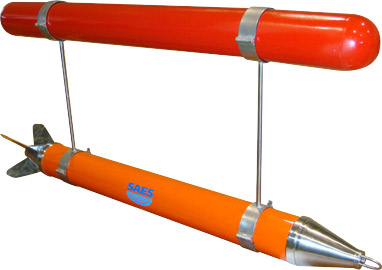 Self-contained and easy to operate.
The electrical and magnetic signature generator is an autonomous device that does not require any kind of power supply. It is also very lightweight, making it highly versatile.
It can be towed by an RHIB (Rubber Hull Inflatable Boat) type pneumatic boat or fixed to the boat being configured to be operated at different depths.
A widely used system.
The SWAMEG is used for calibration and maintenance of MIRS multi-influence ranging system.